What is a mammogram?
Mammography is the use of low energy X-rays to detect suspicious breast tissue to prevent or diagnose breast cancer.
Why is it important to get a mammogram?
How is the test done?
The test is non-invasive and no preparation should be done in advance.
Clothes and jewelery must be removed and the breast placed on the test surface of the machine.
Sometimes there is a minor pain in the breast due to machine stress on breast surface
The whole process took about fifteen minutes.
Below is a picture of woman receives mammogram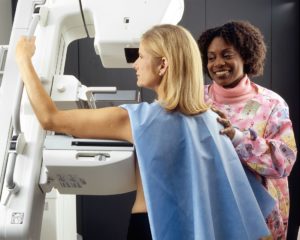 An African-American female technician positions a Caucasian woman at an imaging machine to receive a mammogram. Creator: Rhoda Baer
Photo by National Cancer Institute on Unsplash
To read more about Breast Cancer >>